I'd hate to rate whose death and destruction is worse. So, I won't (consider it not in any particular order...at first). Personally some tragedies have greater effects then others. To me some things just stunk that happened in 2000 and beyond.
10. Cancellation of

Moesha
READ 9-1 AFTER THE CUT
"

Moesha

" focused on a young teen in California. This was the first show in the history of television to star a Black American young female. It was a funny show with comedic moments from all characters especially Hakeem (the late Lamont Bentley) and Kim Parker (Countess Vaughn who landed a spin off show, The

Parkers

). "

Moesha

" also dealt with tougher topics such as date rape drugs, teen pregnancy, and parental loss.
My sister didn't like Mo, because she got away with a lot (and turned down a free Saturn car), but I loved her. She had the BEST boyfriends. Young black girls loved Johnathan Taylor Thomas, but we wanted some Black teen crushes too (Usher as Jeremy, check, Brandon Q. Adams as Aaron, the late Merlin Santana as

Ohagi

, double check! and who didn't want a guy with a nice New York accent calling us "Shorty" as

Fredro

Starr did playing Q). "

Moesha

" never got a final episode but went into syndication in over 10 countries worldwide. How do you say, "if you want to be down, come on" in Japanese?
9. Rest in Peace Jam Master Jay

October 30, 2002
Hello, he was a pioneer and legend in Hip Hop. This is one of the first

DJ's

you should know about. His influence in music was big. He was fatally shot in 2002, years before Run

DMC

was inducted in the Rock & Roll Hall of Fame. I think every time a music legend passes it's felt in music like a huge ripple in the ocean.
8. Defunct - Male R&B Groups.
The most successful r&b group ever is Boys II Men. They killed in the 90s, but in the 2000s people stopped caring for quality sound. In addition to that, member Michael of the group struggled with the pain of his scoliosis. Soon he had a cane. In 2003 he left the group. It hasn't quite been the same without them although the guys still perform, record and sound great.
(see video below of December 2009 performance)
Dru Hill is my fave male group and they're in the cut trying to make things happen still. After

Sisqo

released a solo album dynamics changed. He was hugely successful with his 1999 release but he

should've

came right back to making Dru Hill music. Instead he released a disappointing second album in 2001. It sold well ,but didn't have any standout singles. There was a new Dru Hill member in 2002 who lasted a few years. As of today he's out and a NEW member is in the group. "Dru World Order" a mildly successful album was released in 2002. We are supposed to get a new album in the next decade. I hope so.
Jagged Edge,112,Day 26,

Brutha

and various other groups continued or began in 2000 but it was never...what it used to be. Special note to the end of B2k. That sucked for some people.



7. Extinction of female R&B groups
TLC was phenomenal with 1999's "

Fanmail

" but once that decade came in things would never be the same. They had troubles amidst the group, but still recorded a new album "3D". Tragically, founding member Lisa "Left Eye" Lopes passed away in a car accident in April of 2002. Left Eye was a key personality in music as I know it. TLC was my fave group from my early years, singing songs I shouldn't have ( first song me and my cousin really knew all the words to was "Red Light Special). I remember waking up to

recieve

the news of her passing. She is missed. TLC without the L is still loved and appreciated, but it's not TLC.
Destiny's Child peaked for me with their 1999 release "The Writings on the Wall" (what is it about 1999...were folks intentionally like .."as soon as 2000 hit I'm not doing ANYTHING!?! ...) They went on to release a few albums in the decade with their final line up of members. The songs and albums were great, but the star power of

Beyonce

couldn't be contained. The group split in 2003 after releasing "Destiny Fulfilled".
Girl groups of 2000s never reached the momentum of the 90's groups or even the 60's girl groups. Maybe it's supposed to work out every other decade or so. 2010's we see you! Where the hell is Cherish? We're not counting Cheetah Girl's as a r&b group. Although that Raven had some soul didn't she?! Did she?

Electrik

Red hasn't done so good...."it's like ooh...damn".
6. The Ending of American Black Families on Sitcoms
In 2003 we got the Damon

Wayans

led "My Wife and Kids" and the eponymous sitcom "The Bernie Mac Show". The kids were great. The wives were hilarious (

ya'll

didn't know Tisha Campbell still had it did you?) By 2007 we'd be saying goodbye to both. In the midst of this we got the very

original

"Everybody Hates Chris" with humorous narration and a 80's New York setting. It was like "The Wonder Years" in Brooklyn with Black people. Still, this show did not make it out of the decade. Growing up I definitely appreciated the families of "Family Matters" and "The Fresh Prince of Bel-Air", because my own close family included extended relatives. Now what do the kids have to look at?
5. The Death of Black Sitcoms
The families went and so did the shows about singles, dating, and married in their city.

UPN

a station that housed many of these shows for better or worse merged with the

WB

and became the CW in 2006. Shows like "One on One" and it's spin-off "Cuts" would not make the transition. "Girlfriends" aired for 8 years making it the longest running television series on network

tv

as it began it's last season. Like most of "our" shows it never got a proper finale. "The Game" starring a

hodge

-

podge

of 90's sitcoms actors was a spin off of "Girlfriends" that was coming into it's own as a comedy with meaty drama. It was cancelled in 2009 after being placed in abusive time-slots for a while. It may return to television with brand new episodes. For now we have this one show on Fox called "Brothers". I've never seen it, but I hear it's decent. One Black American sitcom on broadcast network television. The other on cable. Gee thanks Tyler Perry.
4. Whitney's descent: Whitney Houston is really on drugs REALLY
For over a decade we've heard Whitney Houston was on drugs but it wasn't until the 2000's that it matterered most. She stopped working! She released one album (in 2002) that I didn't care for , and she is my all time favorite singer. She didnt' do movies except for a cameo as herself in a straight to dvd hair salon flick. I missed you Whitney! She performed at Michael Jackson's 30th Anniversary Special and was horribly skinny. Around Sept 11th a rumor even surfaced that she had died. Thankfully she would not end the decade under the influence. Her latest album just went platinum. She looks well, and performed beautifully at the American Music Awards.
HBO's drama "The Wire" is hands down the best show in the history of American television aside from some comedies I just can't knock off ("Martin", "Fresh Prince of Bel-Air".. reunion episode please?). It brought us great talents every season. Stringer Bell...ahh Idris Elba has never had a role so great. Avon Barksdale! Wood Harris...we knew you had it in you. Jermaine Crawford and Tristan Wilds nice being introduced to you. Dang Namond we dislike and feel for all the same. Great job Julito Mccullum. Michael B. Jordan the tragedy of Wallace... very well acted. Snoop, Marlo...man Randy who gonna look out for you?
August 25, 2001
Aaliyah was simply a talented entertainer. She came out on the scene in 1994 and quietly succeeded. In 2001 she released her self-tited album that was rhythmic, flirty, personal, and smooth. Then at the mere age of 22yrs old she died in a plane crash.
Her sound,image, and style definitely went on to inspire the rest of the decade. Timbaland starting giving the futuristic vibes he used with her to several artists especially Justin Timberlake. People always compare Ciara, but I think more then one artist exist as they do in the industry due to Aaliyah's passing. Missy did start to work with Ciara who danced and had light vocals. That's true, but Timbaland working with Nelly Furtado and Keri Hilson wouldn't happen as we know it. Talk about r&b femme fatale slipping into rock now and you get Rihanna. Aaliyah was doing her "Queen of the Damned" scenes, singing bolder lyrics, and wearing black when Rihanna was still on the island. Aaliyah's vocals were underrated but she performed well singing low and high and danced effortlessly. People like to say her death got her overhyped. Truth is she was a multi-platinum seller, signed onto a highly successful movie series, and one of the youngest performers at the Oscars in history before she died.
1. The King is Dead: Michael Jackson's Passing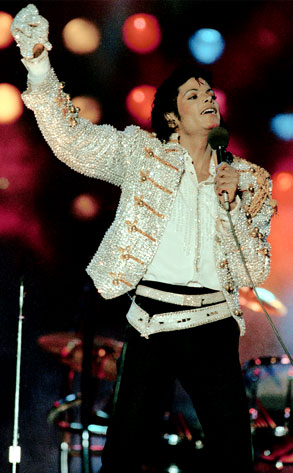 Michael Jackson is not more important then others who have died. I just knew him more. Most of us did. When I learned he died I was devastated. I mean for days I'd find some time to cry as I thought of his death and life. I can't believe he is deceased. Now and then after listening to a few MJ songs, or seeing specials mentioning, or replaying the announcement of his death I feel the same sadness. It still hurts. I can't believe the King of Pop (and sooooo much more) did not live to 2010. Like, I'll have to introduce my future kids to him as "the late entertainer Michael Jackson." I don't know if I expected him to live longer then me, but I definitely expected to have my own house, career, and dogs when he passed away. "Gone too Soon" has never sounded more realer. There will never be anyone even close to Michael Jackson. There is no one who can pioneer what he's done. His dances, his moving lyrics, his powerful performances, his crazy drive, his sweet vocals... GOD. No one will EVER fit his glove.